Sweeping advancements in technology have touched and transformed almost every aspect of our lives. Notably, these advancements pervade the medical field, catalyzing significant improvements in treatments, therapies, and overall patient care. One such marvel of technology that has immensely contributed to enhancing mobility for mobility-impaired individuals is the ReWalk wearable robotic leg.
More than simply restoring motion, the ReWalk wearable robotic leg provides a new sense of autonomy and independence to those affected by spinal cord injuries. This wearable exoskeleton is a battery-powered system that instantly espouses the principles of biomimicry, replicating the natural movements of the legs.
Developed by Israeli engineer, Dr. Amit Goffer, the ReWalk device was initially designed to aid not just those with walking disabilities, but more poignantly, to assist people like himself who have spinal cord injuries. The design is impressively user-friendly, featuring a lightweight suit with motorized legs and crutches to ensure balance. The system relies on subtle changes in the wearer's centre of gravity to initiate steps, while a computer-based control system and motion sensors work in conjunction to generate a gait that is virtually identical to that of an able-bodied person.
User-Friendly Design of ReWalk System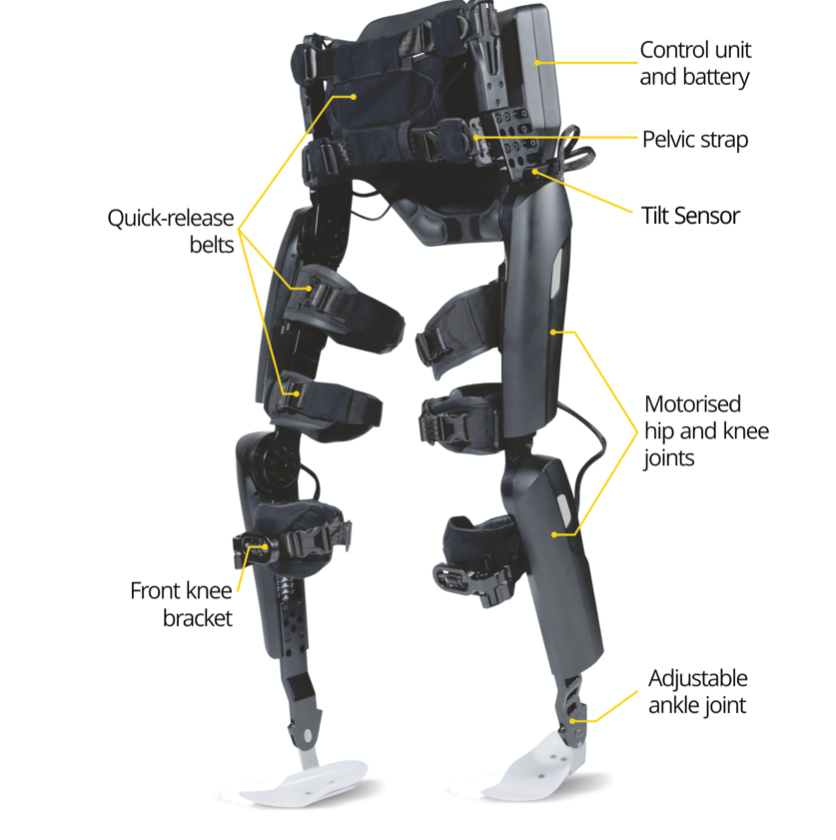 The transformative impact of the ReWalk system on the lives of its users cannot be understated. Beyond the physical mobility, the robotic exoskeleton contributes significantly to enhancing the mental and emotional well-being of users, boosting self-esteem, and reintroducing them to an active life. Imagine the exhilaration a person feels when taking their first steps after a long period of immobility. It's indeed a rebirth, a regaining of one's life that was once filled with barriers.
Interestingly, extensive studies underscoring the benefits of the ReWalk system reveal that consistent use of the device may lead to secondary health benefits. These include the potential reduction in body fat, alleviation of pain and bowel management issues, improved skin health, enhanced cardiovascular health, and decreased fatigue.
Bringing such benefits to users, the ReWalk system is an emblem portraying the victorious union of healthcare and technology. It's a testament to how technological innovations can drive change, widening the scope of possibilities for those with limited mobility due to spinal cord injuries.
As more people gain awareness and access to such groundbreaking technologies, there's no doubt concerns about affordability present themselves. Indeed, making the ReWalk system—and similar solutions in the field—widely accessible is a challenge that manufacturers face. Advocacy for insurance coverage for such devices, as well as further research to reduce costs, is crucial.
Challenging Path Towards Affordability and Accessibility

Despite the challenges ahead, the story of the ReWalk Assistive Robotic Exoskeleton remains an extraordinary testament to human ingenuity. By harnessing the power of technology to restore mobility, we are going beyond simply treating symptoms of spinal cord injury. We are redefining what is possible when it comes to patient rehabilitation, giving them the ability to lead active and fulfilling lives, which was once thought to be beyond reach.
In conclusion, technology does not just influence our lives, it can transform them. The ReWalk wearable robotic leg exemplifies what we can achieve when we combine our desire to improve life quality with technological expertise. The strides made in this field are significant and formidable yet the journey towards creating an accessible and inclusive world for all, regardless of physical abilities, is still ongoing.